is an artist, educator, avid rock climber, natural space advocator, animal lover, and suburban farmer. She was born in Dickinson ND, not so far from Rushville. Her family soon moved to rural Texas and raised horses and blackberries on their farm. She received her MFA from the Maryland Institute College of Art (MICA) and her BFA from the University of Texas at Austin. Her work focuses on environmental conservation and how community education can lead to a richer outdoor experience. For the past decade, her work has combined watercolor on paper with various natural elements contained inside antique cloches and display cases. This gives new life to forgotten materials while simultaneously illuminating the life of native flora and fauna. Currently, she is a faculty member for the College of Southern Nevada's Art and Art History Department. Myranda raises funds for non-profit organizations through art donations and sales. Myranda has two French bulldogs, a wonderful husband, Craig and a daughter, Penelope. She lives and works in Las Vegas, NV.
is interested in nostalgia created through processes and objects. Her grandmother taught her how to crochet and she has worked with the craft throughout her life. She began to use this and other traditional "women's work" in her art for its connotations of personal history, hours or labor and concepts of comfort. She is also a collector, mining thrift and antique stores to find discarded pieces of people's lives. She then transforms these objects with crochet, embroidery and collage, and brings them a new life. In her most recent project, Routine Fables, she collaborated with poet Sara Cress over the course of 2017 to create a new piece every week. Bradford would make a small mixed media sculpture and Cress would respond with a poem. The 52 works were produced and released weekly online. These sculptures and poems document the year in their lives, both good and bad, and the results can be seen at routinefables.com.
Bradford holds an MFA from the California Institute of the Arts (2003) and a BFA from the University of Texas at Austin (2000). Her work has been included in shows both nationally and internationally. She was a founding member of BOX 13 ArtSpace, an innovative artist run studio and gallery space in Houston's East End. She currently lives and works in Houston, TX. More of her work can be seen at elainebradford.com.
Visual artist and designer, living and working in Brazil. He attended courses in sculpture and painting with Professor Jailton Moreira, in Porto Alegre, in 1990, and completed his bachelor's degree in fine arts with a specialization in drawing at UFRGS, Porto Alegre, in 1997. Themes of desire and friendship are woven into some of his work, by bringing the viewer closer and making them the engine of the work. One of his most recent projects for the 32nd bienal in São Paulo, the Rastauro (Restoration) project, raises questions about the development of eating habits and their relationship with the environment, landscape, climate and life on earth.
Is a conceptual artist: she works in service of an idea rather than in service of a marticular material. Her projects usually take the form of performance, photography, installation, or writing. She is interested in using found objects, found situations, and found people, exploring the world around her to call attention to the power of the everyday. She was born and raised in New York City, where she still lives.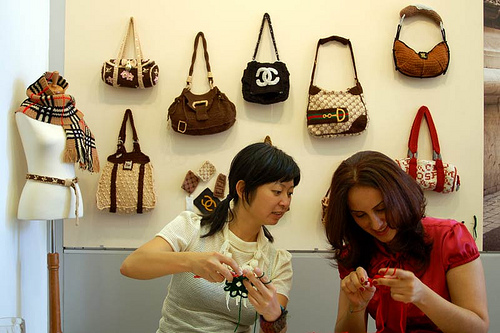 Is an artist and educator whose projects involve everything from archiving cultural heritage, examining public access to information and knowledge, and exploring how economies affect both local and global communities. Her collaborative projects often utilize unexpected workshop formats in order to father people together to discuss tough issues and co-create new stories. Born in the Philippines in 1974, she migrated to the U.S. as a young child and attended the San Francisco Art Institute and Stanford University. A long-time educator, she is an Assistant Professor in Sculpture at UC Berkley, where she is committed to supporting public education and working to build coursework that melds traditional craft forms with digital technologies and social engagement. She is a recipient of a 2014 Guggenheim Fellowship Award, and she has exhibited widely. She lives and works in Oakland, California.
Lives and works in Albuquerque, NM. He received his MFA from the University of New Mexico in the Art & Ecology program, and his BFA from Michigan State University. He creates kinetic, performative, and allegorical sculptures by applying his knowledge of construction, electronics, and living systems. When the works hang from the wall he considers them paintings. As much work as possible is released into the public domain. His portfolio is available at www.rabaw.com. Major ongoing projects include the Edible Carnival www.ediblecarnival.org and the United States Chapter of People for the Ethical Treatment of Technology and Infrastructure www.PETTI.us.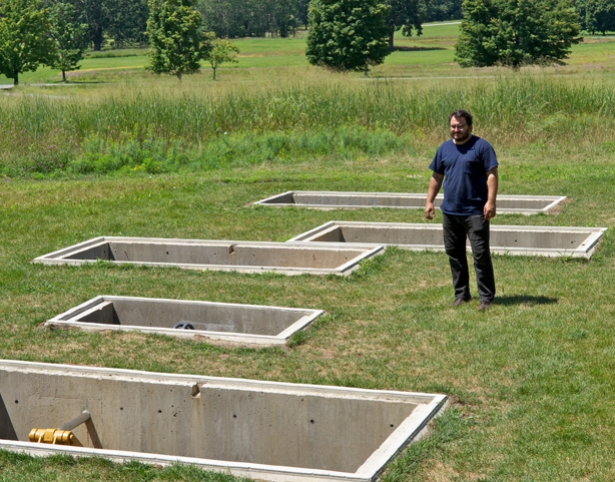 (born 1975, Brazil, Indiana) is a New York-based artist whose work investigates how cultural concerns cannot be divorced from the natural world, while also questioning the terms under which nature is perceived and utilized. Brooks' work is driven by his interest in the ways in which humans interact with natural and built environments, often bringing natural elements into an art context. His complete disassembly of a combine harvester to form a veritable asteroid field of musicological displays throughout the Aldrich Contemporary Art Museum is currently on display at the Bemis Center in Omaha through August, 2017. Brooks received a BFA from the Cooper Union and an MFA from Columbia University in New York. Often working with biologists in the Amazon basin, the artist draws parallels between a cross-disciplinary scientific process and an artistic desire to understand the world. Brooks lives and works between New York and New Orleans, is on the faculty of the Maryland Institute College of Art, and is currently a Smithsonian Artist Research Fellow.
Graduate of the Iowa State University Landscape Architecture Program. She is passionate about creating better places and building community through landscape. She has worked with the City of Omaha Parks and Recreation Department organizing public outreach and park improvement projects and also as an Urban Design Fellow for the research and design collaborative non-profit Emerging Terrain collaboratively creating site-specific installations and events with participatory processes. Kayla continues to work in Omaha for a multi-disciplinary design firm where she focuses on site design for K-12 schools. Through her work, she hopes to strategically position design, and more specifically landscape architecture, as an opportunity to recover our own consciousness and health, our lost traditions and sense of community, our rootedness in the land and our connectedness with one another.
Is a multimedia artist who creates sculpture and pottery with an aim to inspire dialogue about diminishing communal activities in our culture. Edwards received his MFA from the University of Nebraska – Lincoln and his BFA in ceramics from the Appalachian Center for Craft at Tennessee Technological University. When he traveled to Jingdezhen, China as a Windgate Fellow to be an artist in residence at the Sanbao International Ceramic Art Institute, the birthplace of porcelain inspired him. He became fascinated by ceramics as industry – particularity how remnants of industrial production were integrated into architectural elements throughout the city—and later continued his international research in production ceramics through an internship program in Germany. While there, he was able to work closely with a production potter and observe European Studio practice. Edwards has since set up his studio in Lincoln, Nebraska, where he currently resides with his wife and son.
is a visual artist. Currently, "Swale" is a floating food forest for New York. In 2015, she completed a two-part sculpture "Pull" for the International Havana Biennial with the Museo Nacional de Bellas Artes de la Habana and the Bronx Museum of the Arts. Mary Mattingly's work has been exhibited at the International Center of Photography, the Seoul Art Center, the Brooklyn Museum, the New York Public Library, deCordova Museum and Sculpture Park, and the Palais de Tokyo. With the U.S. Department of State and Bronx Museum of the Arts she participated in the smARTpower project, traveling to Manila. In 2009 Mattingly founded the Waterpod Project, a barge-based public space and self-sufficient habitat that hosted over 200,000 visitors in New York. In 2014, an artist residency on the water called WetLand launched in Philadelphia. It is being utilized by the University of Pennsylvania's Environmental Humanities program.